Parents who homeschool their kids understand the importance of craft making. Arts and crafts help kids in so many different ways. For example, using scissors to cut out shapes teaches coordination and having to wait for glue and paint to dry can teach kids patience. Making things also gives kids a way to express themselves and it encourages them to use their imagination.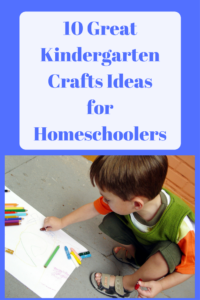 Here are 10 kindergarten crafts for homeschoolers you got to try:
Make farm animals and put together a mini zoo
Put together a puppet show by making your own puppets and a theater
Design a memory box to hold trinkets that remind your child of the fun year you had together
Make your own activity book for when you travel
Put together a paper mache globe to teach your kids about earth day
Pinwheels, flags and star crafts for the 4th of July are a lot of fun to make
Build a solar system model
Make paper masks or hats for special holidays like Easter, Halloween and New Years
Make valentine cards for family and friends
Create fun calendars to help teach kids the different months and to explore all the different holidays
These craft ideas are not only fun to make but some of them help teach your kindergartner about important events that happen throughout the year. They help make learning fun.