Who doesn't love an adorable little ghost for the Halloween season? Ghosts don't have to be scary and Halloween is a great time to test your skills at making fun arts and crafts. Here we have a cute little ghost project that is super easy to make. It's an adorable DIY ghost pom pom craft and we're going to show you exactly how to do it. If you're looking for something fun the kids can do on Halloween before or after Trick or Treating, or an activity you can do with your class on Halloween day, this will definitely fit the bill. So first, let's look at what you will need to make it.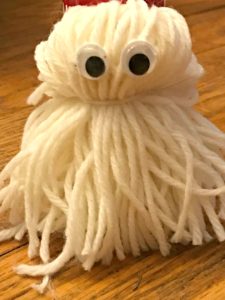 (This post may contain affiliate links. I may earn a small commission on your purchases, which goes to help support the site.)
Supplies:
As you can see, the supplies are simple. You don't need a lot, you don't need anything complicated, and it won't cost you a lot of money. If you're doing this activity with a lot of kids, you mgiht consider buying in bulk to save more and have enough for everyone.
Once you've gathered your supplies, it's time to get started putting it all together. Again, this is a really easy one and even young children can do it.
Instructions:
Start by wrapping the white yarn around your hand. You can do as little or as much as you like. How much yarn you use will determine how big your ghost will be.
Once you like the amount of yarn, slide it off your hand.
Cut a piece of yarn to tie around the hand that you rolled up. You want to be sure to tie the string more towards the top of your yarn. This creates the head of your ghost.
Next, cut all the strings on the bottom half of your ghost.
Glue the eyes on the top part of the ghost, the strings you did not cut.
Tada, you have a cute Halloween ghost decoration!
Take a look at these pictures to see how to do it and the order to do it in.