*This post contains affiliate links.  I may make a small commission if you make a purchase after clicking on a link below*
Shark Suckers…are you ready to take a bite out of these fun and yummy suckers?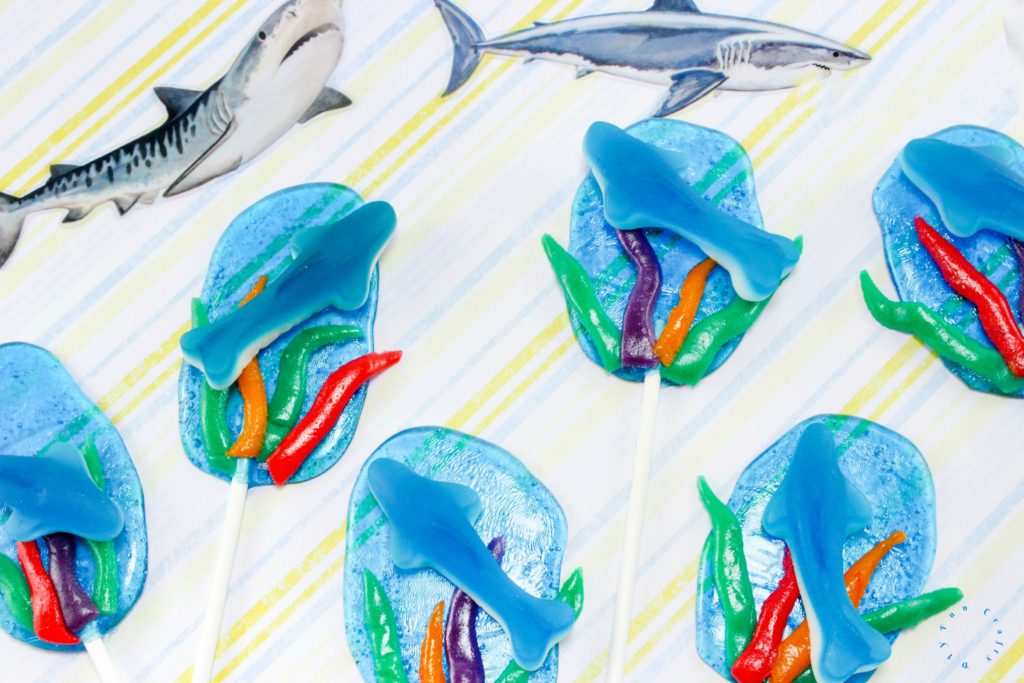 These Shark Suckers are really easy, versatile and fun to make and the best part is that you really only need a few supplies to make them!
Now before we get to what supplies are needed, my tip is get prepare the needed supplies a few days before you are thinking of doing this craft!  We all know how crazy Summer time is and the thought of dragging the kids to the store, only to find out that the store is OUT of what you need is soooo frustrating!  That means dragging them to another store!  Sometimes there just isn't time in a day to deal with that!  That is why I am loving our new Amazon Prime membership!  Things can be here within two days!  In some cases we've had stuff show up the NEXT day depending on where the seller's warehouse is located!  Amazon Prime just makes life so much easier!  No loading up the kids, dealing with the crowds and hearing, "she's touching me", "MOM tell her to stop", "MOM are we done?", "MOM I spilled my water", "MOM close the window it's messing up my hair", "MOOOOOOMMMMM!" I know you can relate!  That's why if you don't have Prime yet, you really should consider it!  Did you know that you can try Prime for free for 30 days???  You can go to this link to learn more,  Try Amazon Prime 30-Day Free Trial
Ingredients Needed
Airheads Candy (blue, green, orange, red)
Directions
Preheat oven to 250 degrees.  Unwrap the Airhead candy and cut thin pieces, about 2 inches long to resemble sea weed.
On a parchment lined baking sheet, place 3 unwrapped Jolly Rancher candies above each other, making sure they touch.  Repeat this with all of the candies. (Make sure to leave space to add the sucker stick).
Place the Jolly Rancher candies into the oven for about 4 – 5 minutes.  Make sure to keep a close eye on them because you want to take them out just after they melt together.  Remove them from the oven and place a sucker stick on each one.
Let them set up for a few minutes until they aren't hot but still tacky, then put 3 – 4 pieces of the sea weed and a shark on each one.
Let them finish cooling and viola!