*This post contains affiliate links. I may receive a small commission if you make a purchase after clicking on the link below.
Making a wreath is so much fun! They are very versatile, you can hang them either inside or out, and they add just the right touch to your décor.
4th of July is one of my favorite holidays.  One of the reasons it's my favorite is because of what we are celebrating.  Another reason is that it's always in the middle of Summer so it should be warm!  My third  reason it's my favorite is because of the colors.  There's just something pretty cool about all of the red, whites and blues!
Here is a super simple 4th of July Wreath tutorial!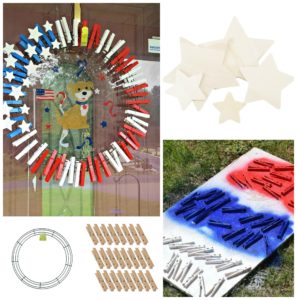 4th of July Wreath – How to Make It
Supplies Needed
Start by dividing out your 60 clothespins.   You will need 15 blue, 22 white and 23 red.
Prepare a surface to lay your clothespins on.  Spray paint the clothespins one color at a time.
*FYI the clothespins will take a very long time to dry
Then stagger them on the wreath frame doing all of the blue clothespins together, then 4 reds followed by 4 whites.
Lastly, attach the wooden stars with the hot glue gun to the blue clothespins
Once the wreath is dry, you can hang it up!