This post may contain affiliate links.  I may receive a small commission if you make a purchase after clicking on one of the links. 
Peppermint is one of those smells, at least for me, reminds me of the holidays.  It's one of those scents that always brings back great holiday memories and yes sometimes makes me very hungry since I bake a lot with peppermint.
With our crazy busy life, I don't have a lot of free time for myself.  I know, I know that I should, BUT what I should DO and actually DO are always two totally different things.
I let my teen use a lot of the products that I buy.  One little luxury that I love to buy for myself is sugar scrub.  I love how it removes dry and rough areas on your hands and then leaves them soft and moisturized.  The downsize of this luxury though is the price tag!  The last one I bought was $15 for 6 oz!  That unfortunately is not very frugal!  Since teens don't always pay attention to how they actually use (let's be honest if they aren't paying for it they really don't care how much they use/consume). It can become a very expensive luxury.
Since I've created a lover of sugar scrub, I decided to search the internet and found several recipes for homemade sugar scrub.  I wanted to find one that has actual ingredients that are simple, not full of preservatives, and isn't a big glob of oil.
Here is another sugar scrub recipe that I think you will adore!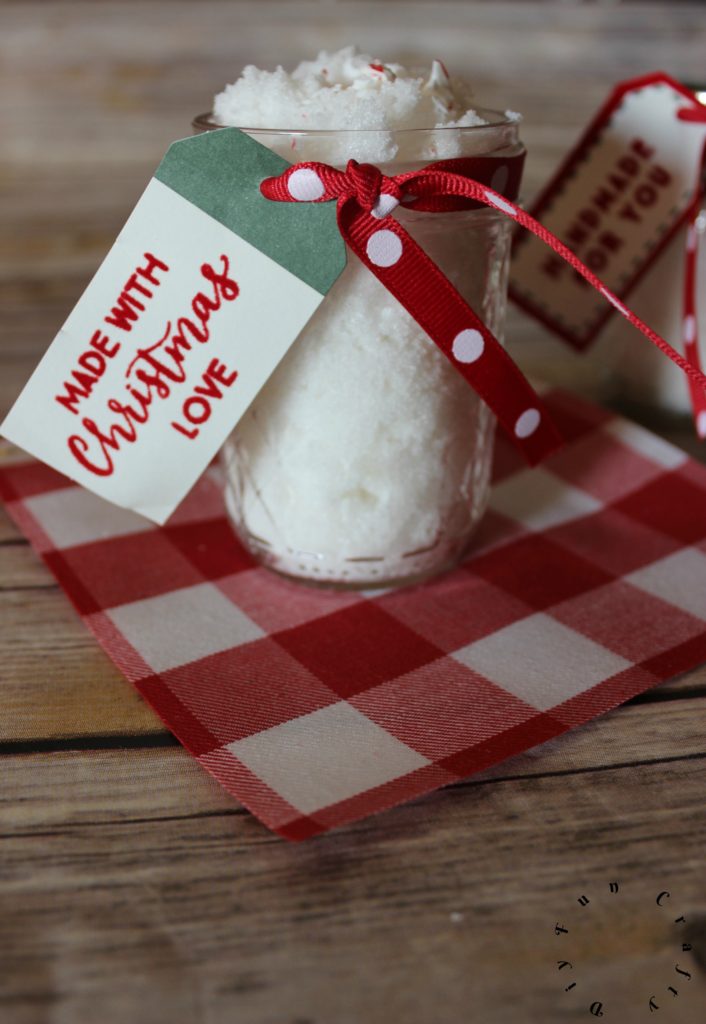 Here is the recipe I came up with to make our own Peppermint Sugar Scrub.
Ingredients needed:
2 cups white sugar
1/4 cup coconut oil (vegan, organic)
1/2 tsp pure peppermint extract
Peppermint candy candy
Supplies Needed:
Recycled candle jars – if you don't have any of those, check out these cool jars you can order!
Gift tags – I found mine in the dollar section at Target
Red or any holiday ribbon – I am using some I already had from a different project
Rolling pin or other heavy object to roll over the candy cane
Plastic bag to put the candy cane in
Medium sized mixing bowl
Small sized microwave safe bowl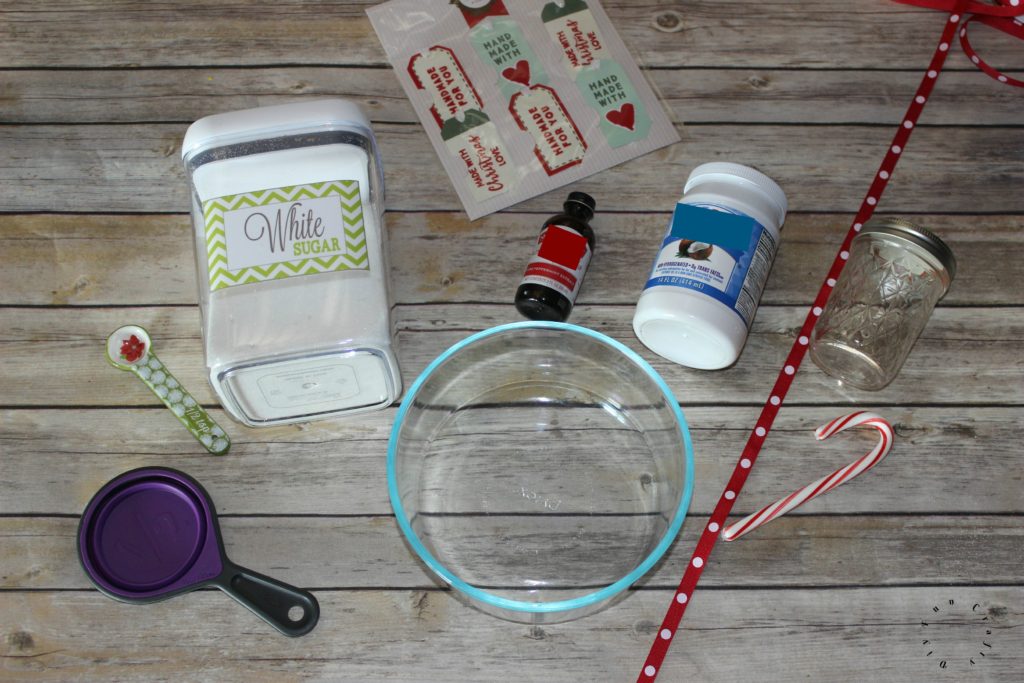 Directions:
As you can see above, I only had 1/2 cup of sugar in the measuring cup.  I wanted to make sure I didn't add too much sugar at a time so I only measured out 1/2 cup at a time.
In a medium sized bowl, add the sugar and peppermint extract.  In a microwave safe bowl add the coconut oil and microwave on high for about 30 seconds.
Slowly pour the coconut oil into the sugar/extract mixture and mix together with a spoon.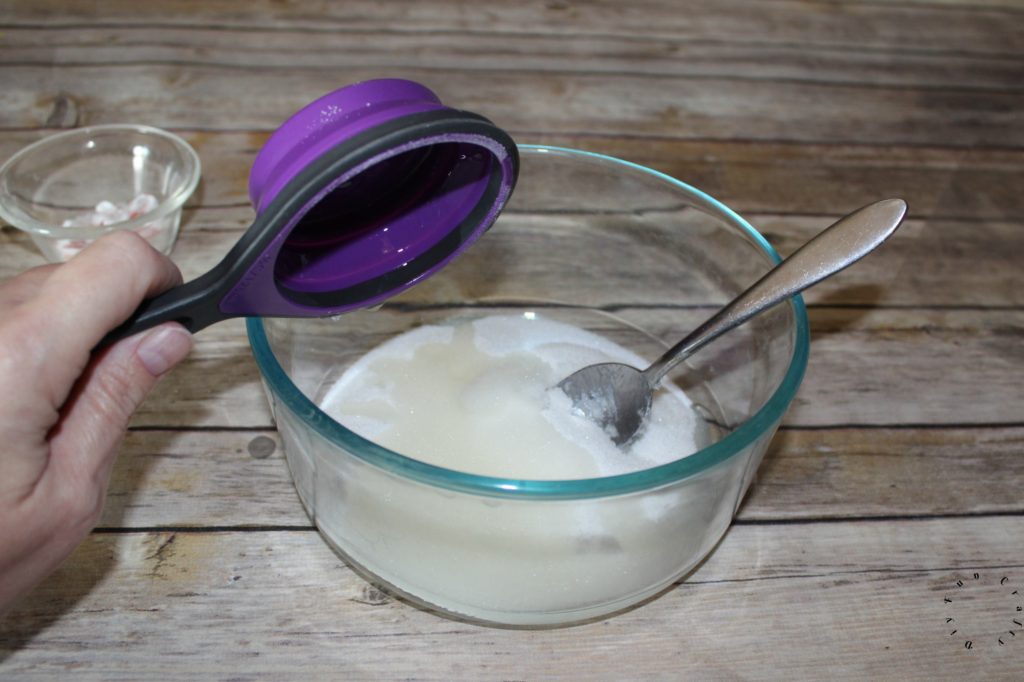 Put the candy cane into a resealable bag and use a rolling pin or other heavy object to literally roll over the candy.  I honestly use the rolling pin more to beat the candy cane into the small pieces.  (Did you know that you can actually use the rolling pin for more then just rolling out dough?)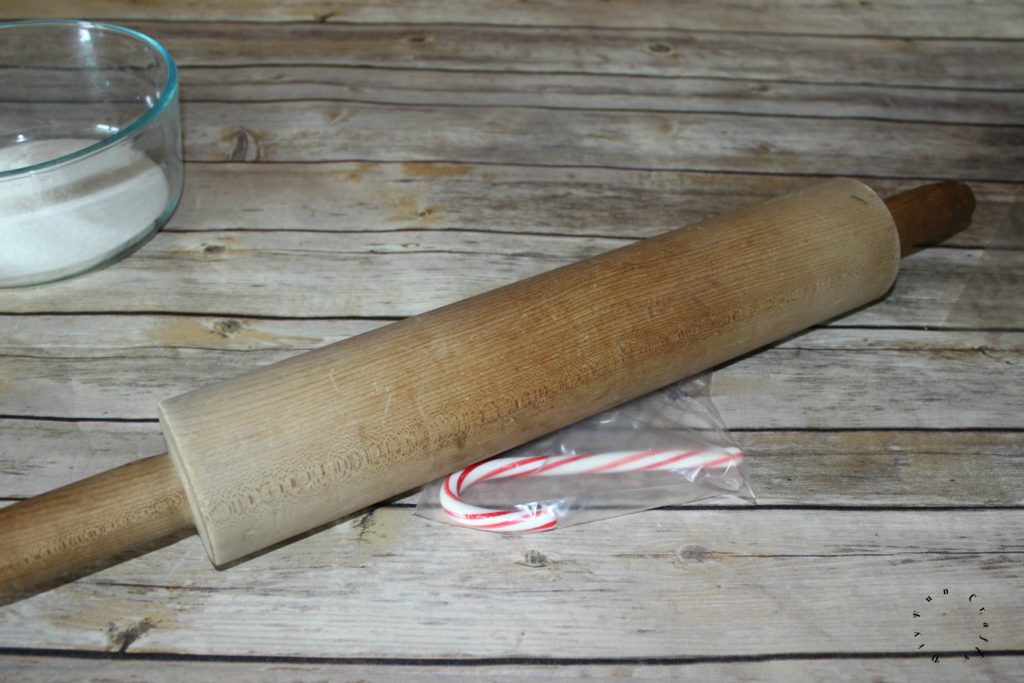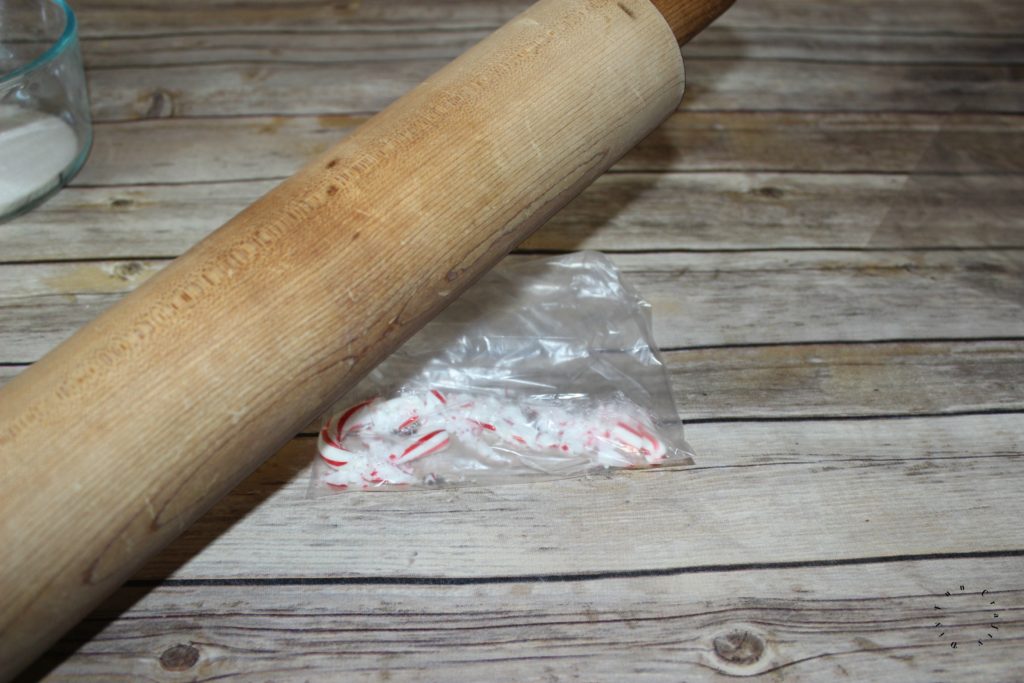 Fill up the jelly jars with the mixture.  The mixture I made above will make approximately 16 ozs of sugar scrub (2 8 oz jelly jars).
Top with the crushed candy cane pieces, add the ribbon and tags and tada! Your homemade peppermint sugar scrub is done!
Do you have any favorite homemade sugar scrub recipes?  I'd love to hear what your favorites are!
Make sure to pin this for later!